Project 1:

A Biometric Future
"What happens when using biometric data for hyper-personalization becomes ubiquitous?"
Presently, we have a huge prevalence of quantified self-monitoring and tracking steps, calories were eaten, time spent sleeping, sitting, etc. As more functionality comes from monitoring biometrics, more people are willing to share their personal data with the public. Biometrics are also useful for very important things such as authentication and health monitoring, showing a distinct vignette of an individual. When the frequency of sharing personal biometric becomes ubiquitous to gain utility, how does that scale with privacy issues and boredom of perfection? Can Hyper-personalization lead to experiential echo-chambers? A Biometric Future looks at this complex interplay in the not-too-distant future.
Vignettes of A Biometric Future
Information taken from the physiological make-up of one's tastebud formation and analysis of saliva, allows chefs to create personalized dishes based on their customers' biometric data. These TongueID plates replace the old system of paper menus, prompting the customer to deposit a bit of saliva to be analyzed. A visual chemical reaction occurs, giving incite to the chef to understand the way their customer perceives taste. This novel interaction and the utility of the outcome has made TongueID ubiquitous in the dining scene.

Due to wide-spread biometric reading, taste data, and personalization in restaurants, people now go to restaurants based on the chef's personal style and how they cater to individuals TongueID. Analog food ordering systems, like menus, and daily specials, are now a novelty that is promoted as a nostalgic experience.
"Technology is becoming more and more intertwined with our lives... how far we are willing to go?"
Boost is a speculative design product that enables people to control their state of mind and broadcast it to others around them. In this imagined society, emotions are able to be captured and shared as easily as photos or videos.
The project is inspired by forms of mental augmentation, or ways in which people try to control not just their physical state, but their mental state. Paradoxically, humans are controlled by their brains, but we've seen a desire to turn that relationship around. Technology is becoming more and more intertwined with our lives, and although Boost is an imagined product, it provokes questions of how far we are willing to go.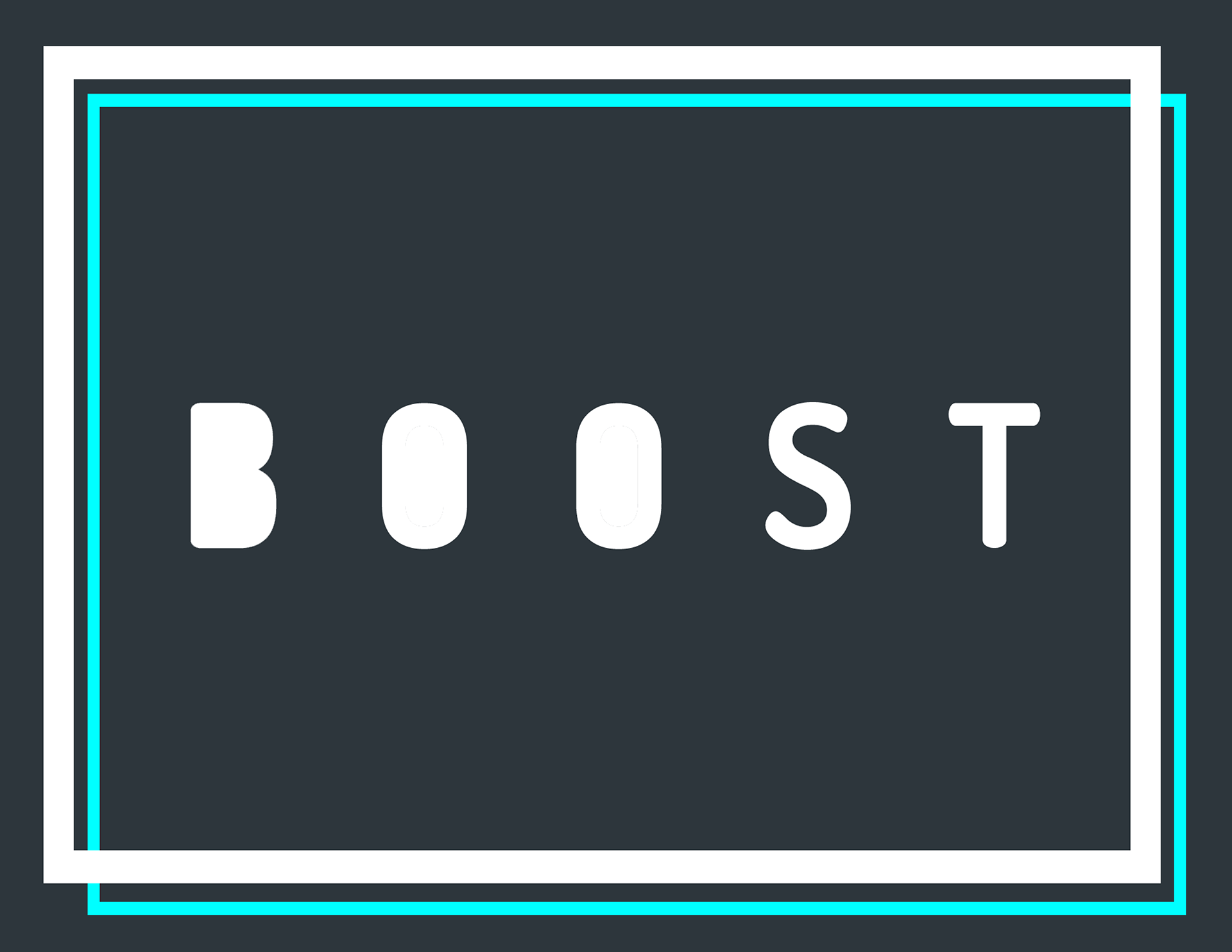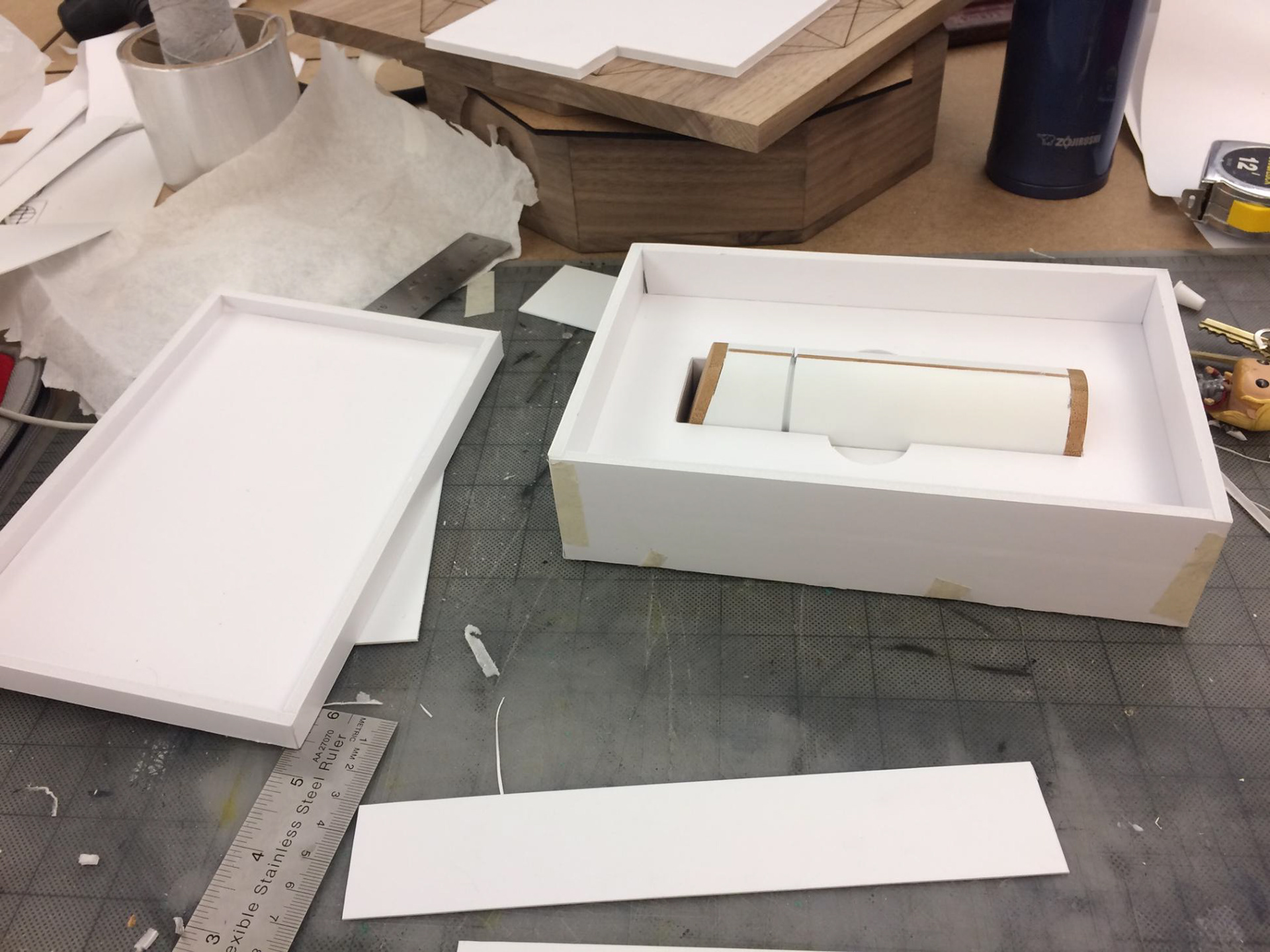 Boost's Getting Started Guide:
This pamphlet briefs the user on the features of the product in a feel-good manner.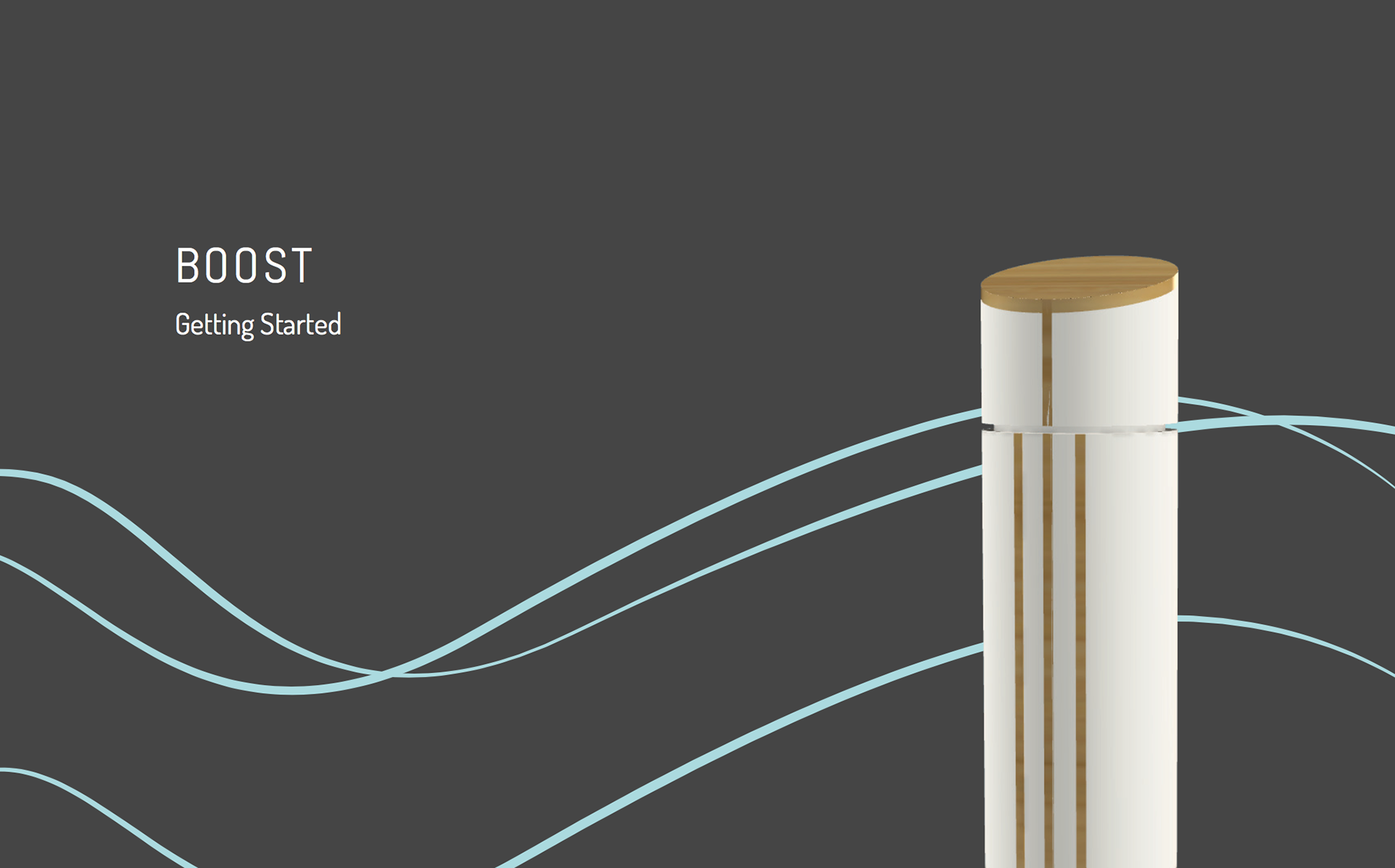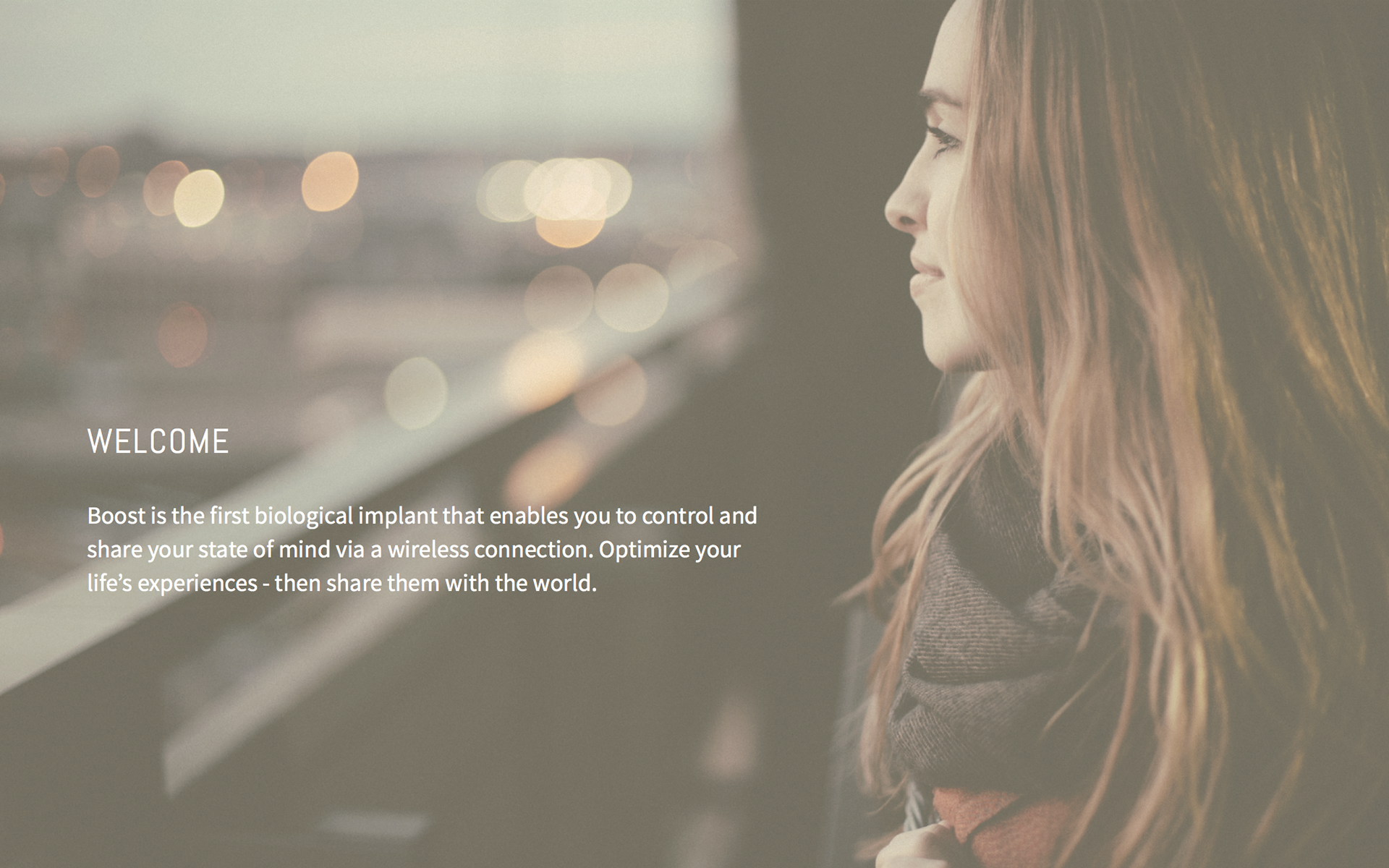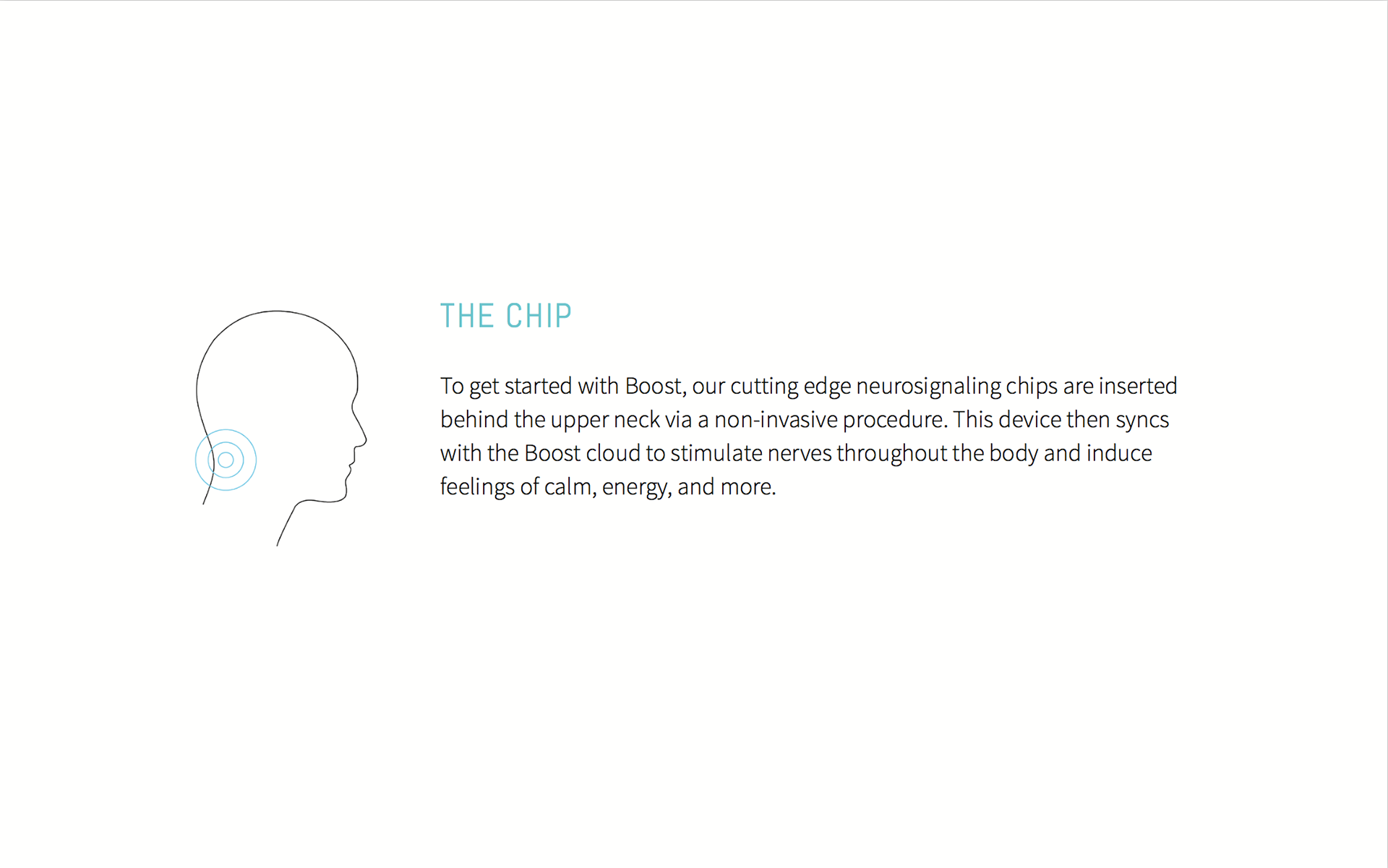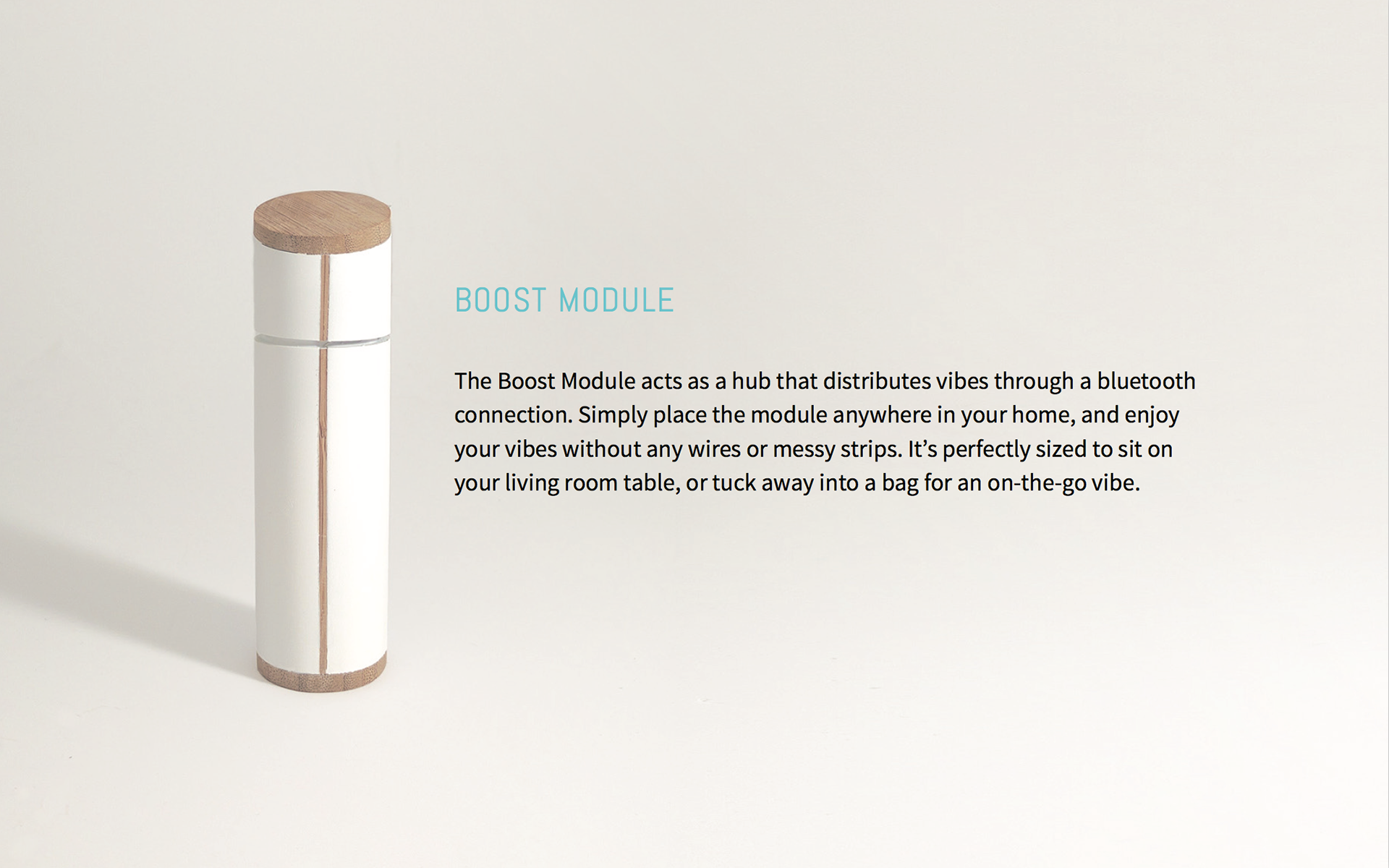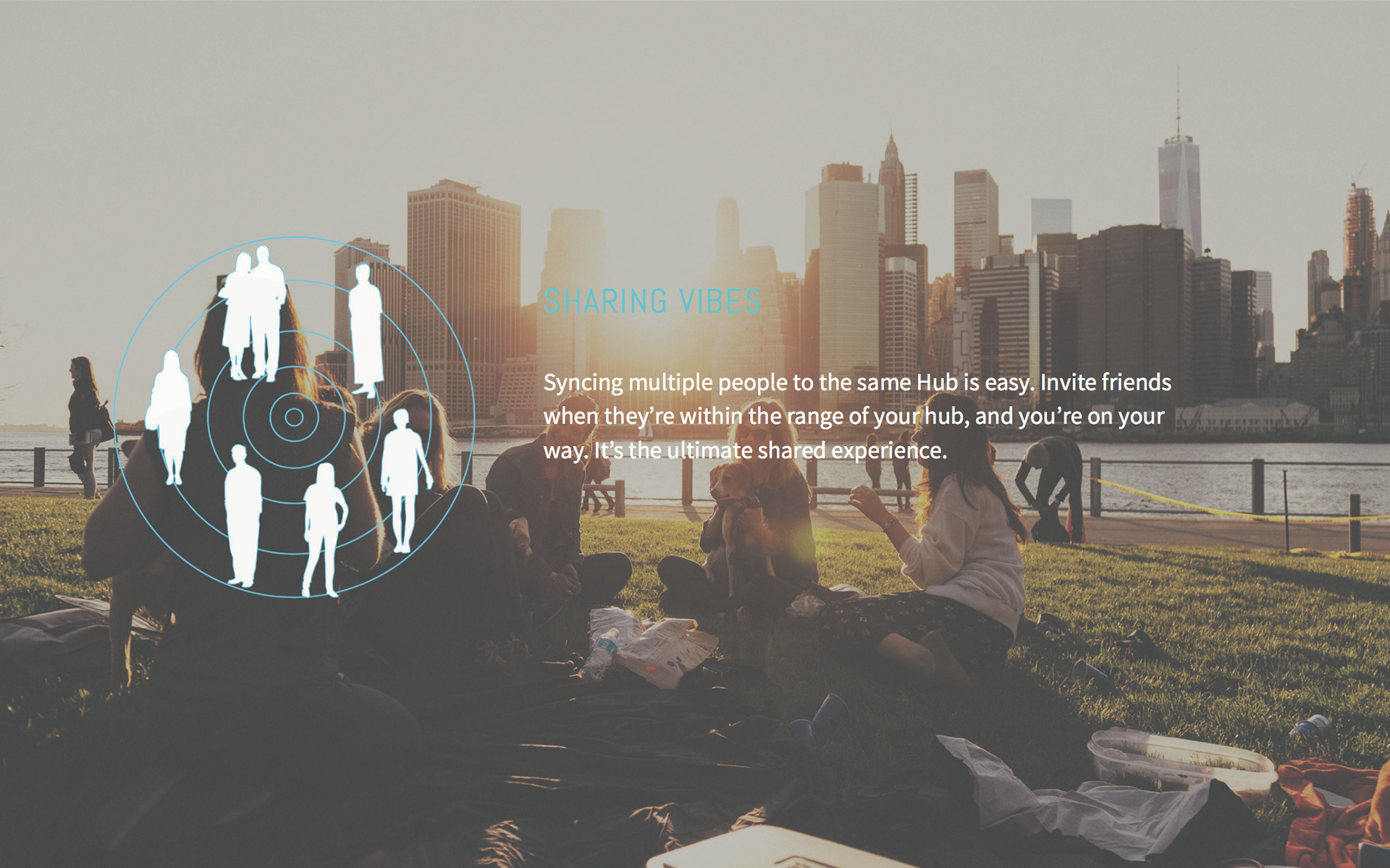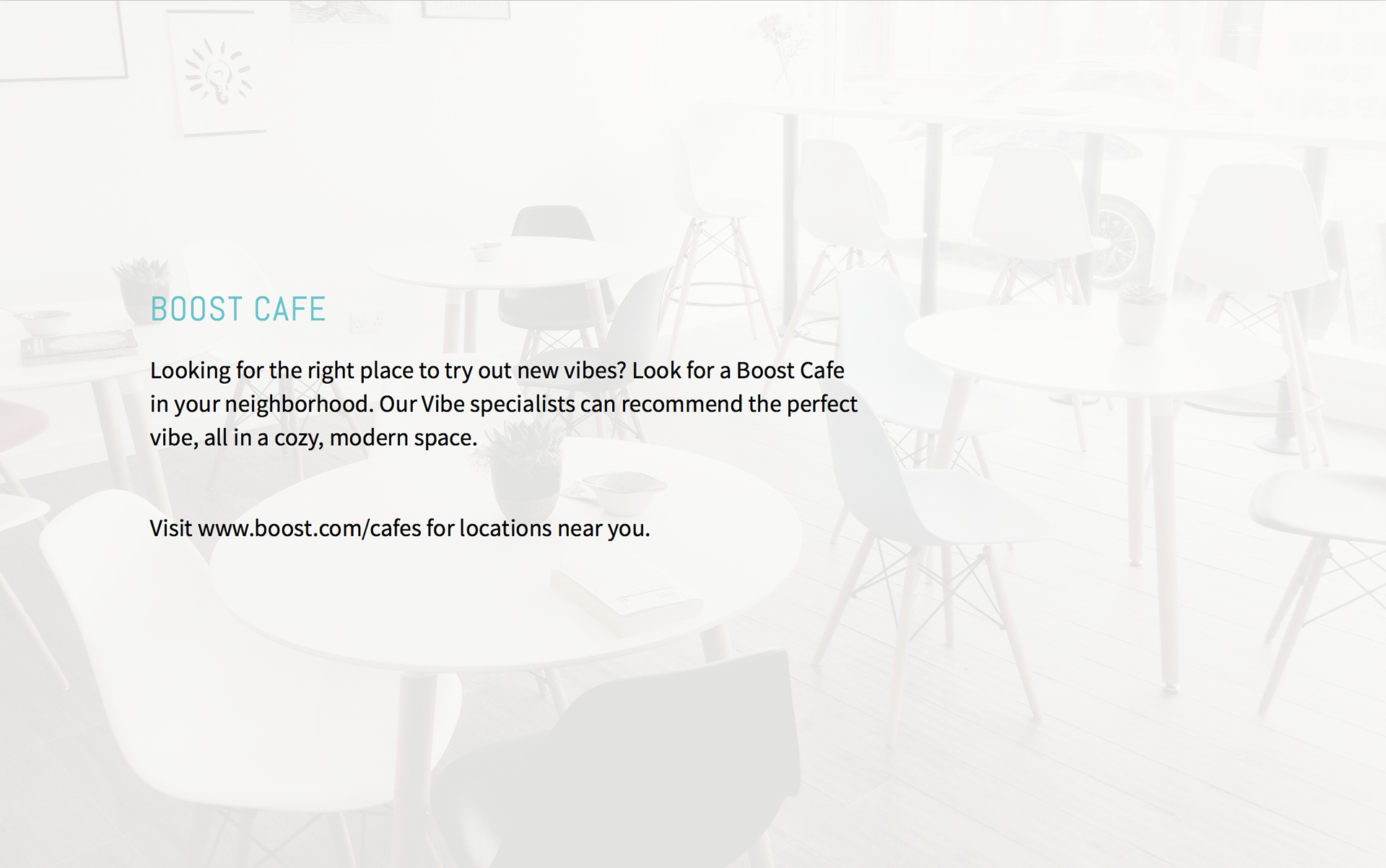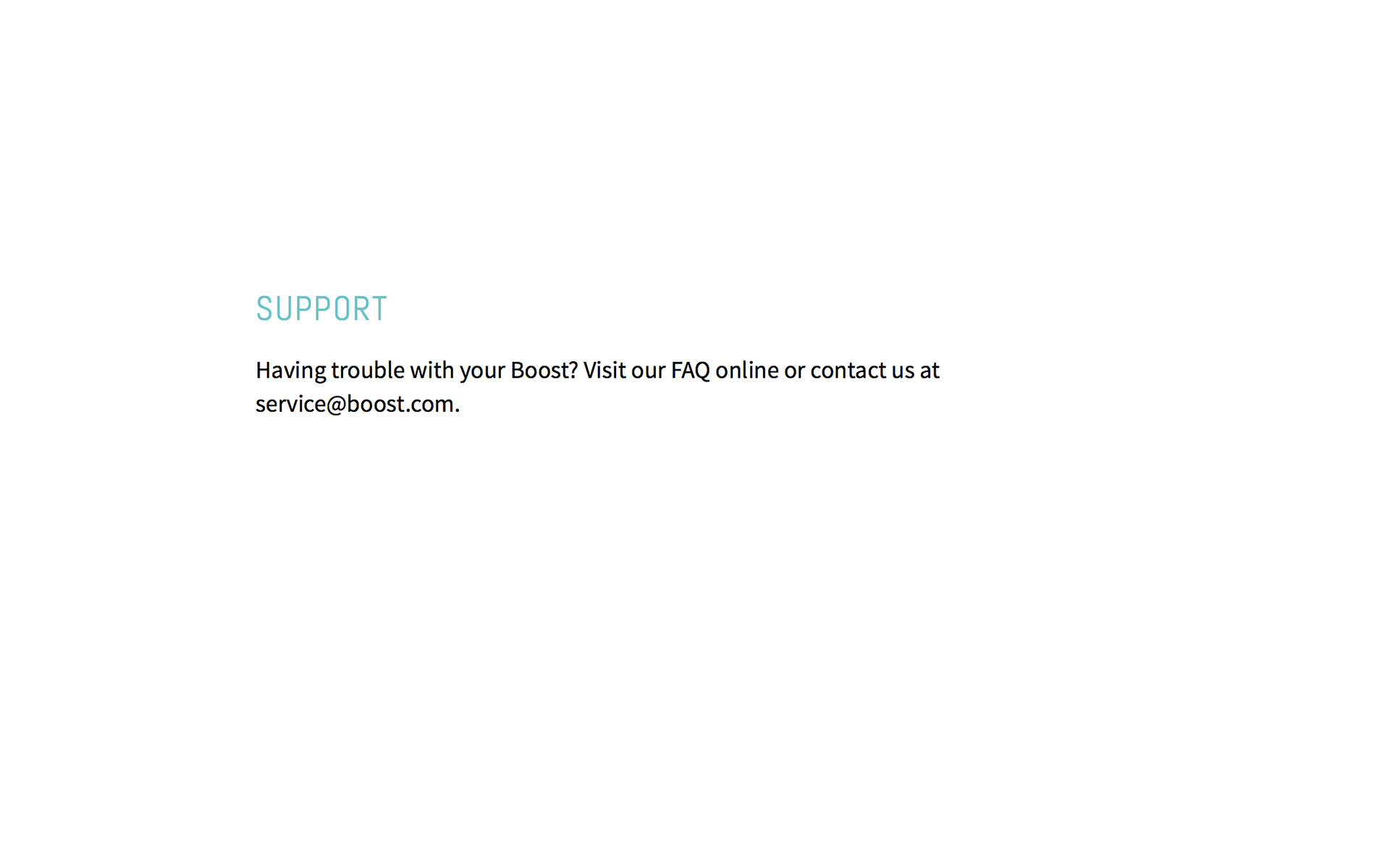 Boost Freemium vs. Boost Premium Features
Boost Freemium (physical location based)
Boost is the first biological implant that enables you to control and share your state of mind via a wireless connection. Optimize your life's experiences - then share them with the world. 
To get started with Boost, our cutting edge neurosignaling chips are inserted behind the upper neck via a non-invasive procedure. This device then syncs with the Boost cloud to stimulate nerves throughout the body and induce feelings of calm, energy, and more.
The Boost Module acts as a hub that distributes vibes through a bluetooth connection. Simply place the module anywhere in your home, and enjoy your vibes without any wires or messy strips. The Travel Hub is the portable version of the Module, allowing you to have a vibe whenever and wherever you are. The best part of Boost? Sync multiple people to the same Hub. It's the ultimate shared experience.
Looking for the right place to try out new vibes? Look for a Boost Cafe in your neighborhood. Our Vibe specialists can recommend the perfect vibe, all in a cozy, modern space.    
-Boost Fremium limited only to bluetooth connection (connect with friends, etc)
-Connect to Vibe cafés (location based). Sync w/ cafe and they send you the vibe when you make a purchase
-Boost hotspots (Public free hotspots/hourly rate hotspots for a pick-me-up)
Boost Premium (Cloud based/distance)
-Get vibes anywhere
-Feel celebrity vibes
-Connect with friend anywhere (live sync/true empathy)
-Capture this feeling/vibe (relive feelings and moments)
-Can't get enough of Boost? Upgrade to Boost Premium, and get connected to the global Boost network.
Connect with friend anywhere (live sync/true empathy)
Sometimes, words and images aren't enough. Introducing True Empathy - live sync with a friend anywhere in the world. Experience that winning moment, that last day, or that breathtaking view together, without the physical limitations.
(icons of two people connected?)
Make your own vibe - App "capture this feeling" - relive moments
For those times when everything feels just right, record your best moments with Vibe Capture. Your personal vibe can be saved and shared to relive that moment anytime, with anyone.
Don't just watch Cristiano Ronaldo score the winning goal, feel it for yourself with Cristiano's exclusive vibe created just for Boost. Now featuring limited-edition vibes from Beyonce, Kate Moss, and Taylor Swift.
Snapshots of
 Boost
in the World
Touted as a lifestyle product, the approach of advertising and allure built around this intrusive technology using Influencers and celebrities quickly aids the adoption in everyday society. Seen below are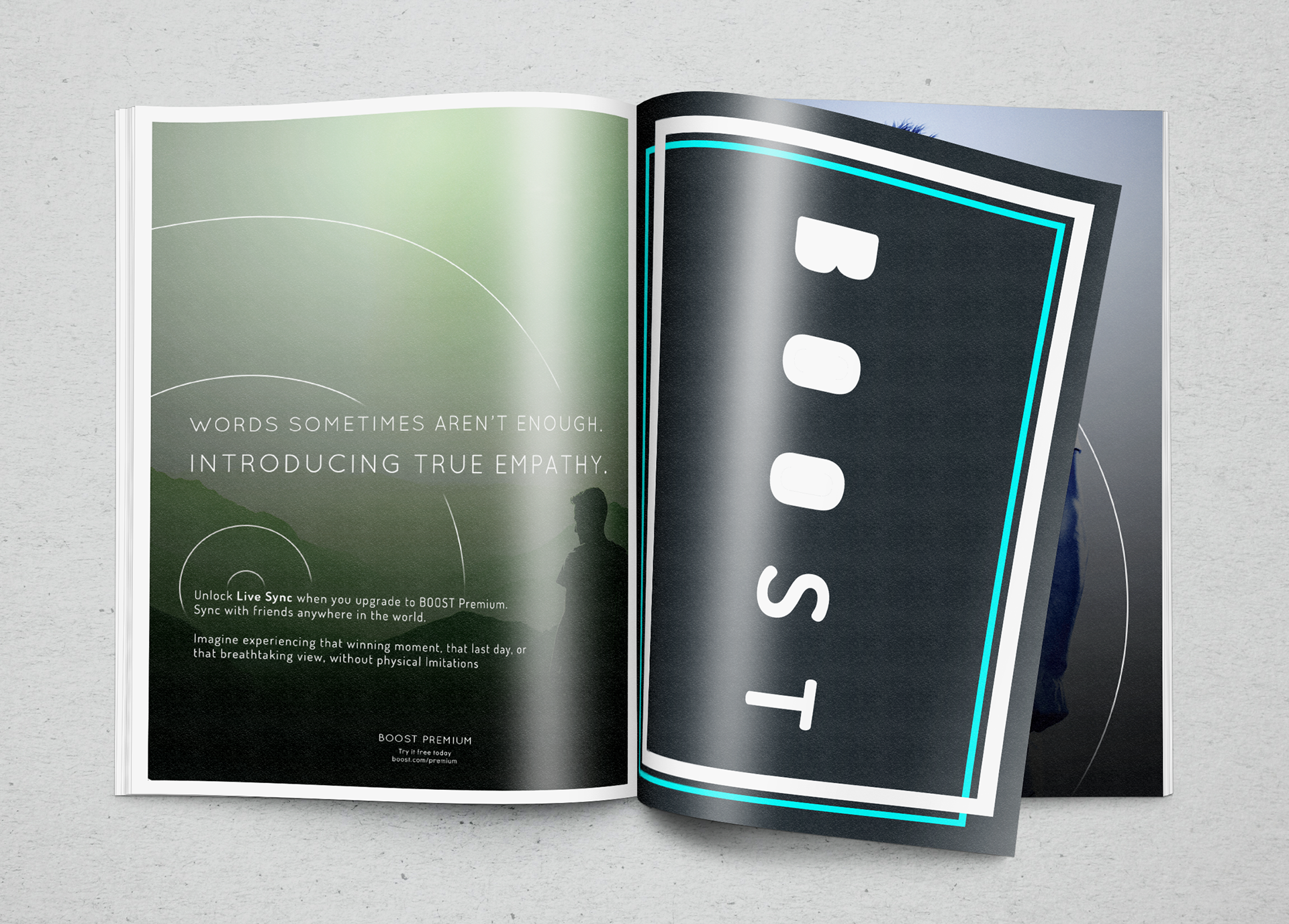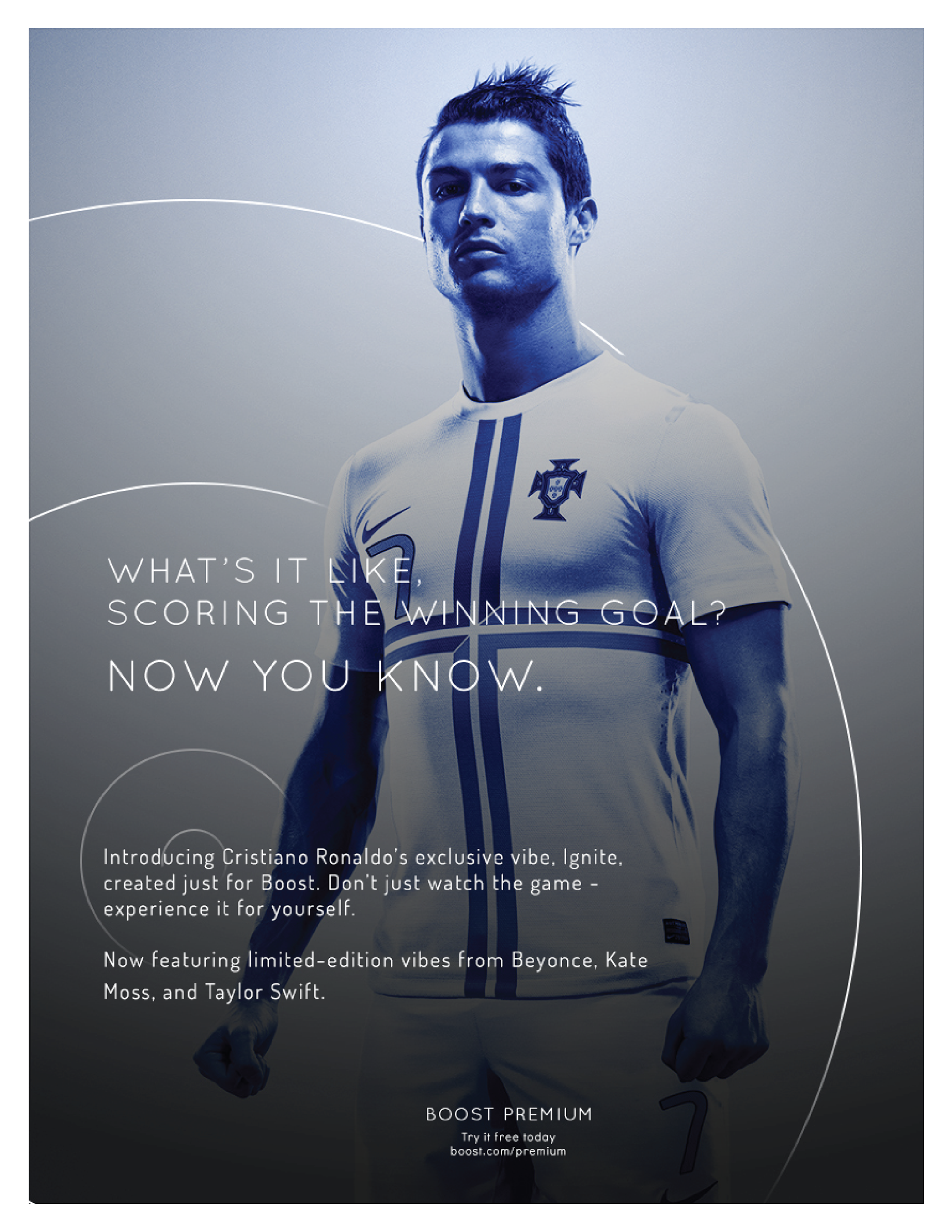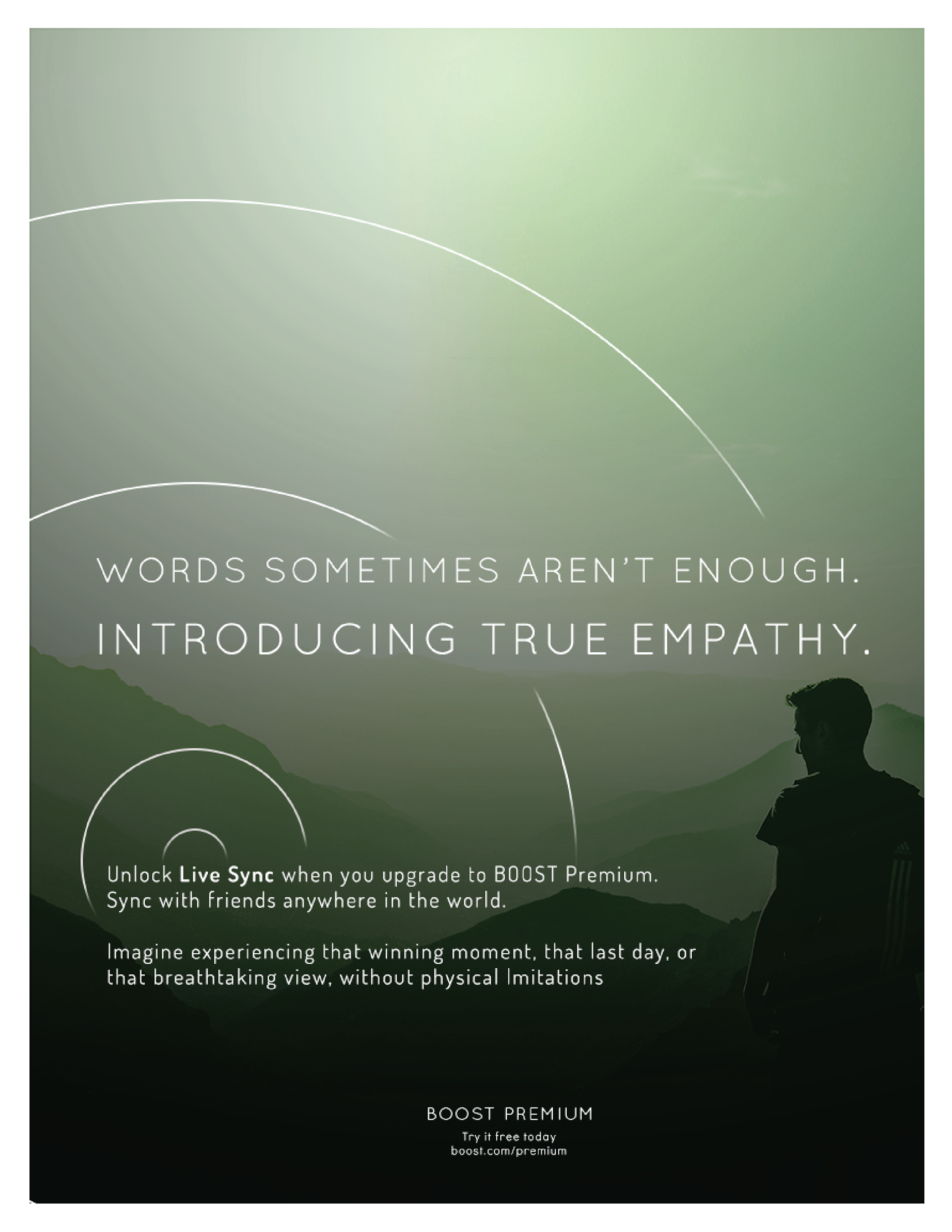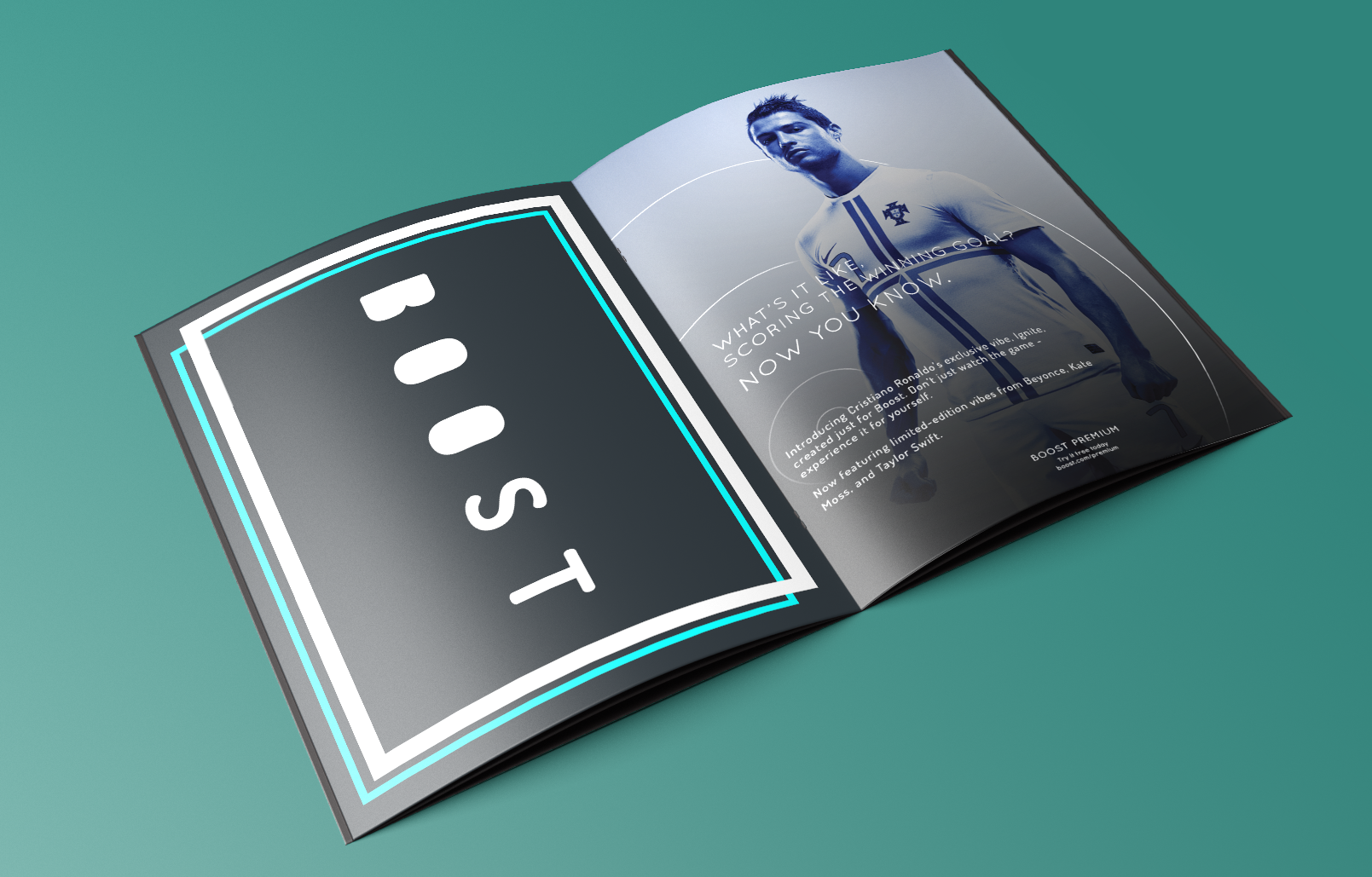 "How Young Is Too Young"
Example of a Mom-Blog's review of Boost Vibes and her opinion on the effects/benefits of Boosts with her 5 Year-old daughter Kaylee:
"You guys all know what a big proponent of Boosts I am -- for you and your entire family. Recently, I've been getting a lot of questions about when to introduce Boost to your young ones, which is a completely legitimate question!
My daughter, Kaylee, gets Boosts regularly, just like me. She's five, and I haven't given her full control of the power settings yet, and I only use the calming boosts for her (because what five-year-old needs more energy?). She falls asleep almost right after she uses it and I can trust that she'll sleep soundly until morning. Honestly, I don't think it's ever too early for boosts -- if I had this device earlier, I can see them being excellent for calming a fussy baby or a hyperactive kid before a doctor's appointment.
Also, the earlier you start, the easier it is for your child to get used to the boosts and start understanding what settings are best for them. For me, I had some...interesting...incidents when I was still learning how to use it (I actually wrote a post about this).
Some of you guys have talked about side effects, and let me say first and foremost that it's completely safe. Kaylee has never shown any kind of negative reaction to the boosts. If anything, I think she's a little excited to use it! She sees me using them on a regular basis, so I think in her mind she wants to "be like mommy."
So yes, give your kids a boost! And of course, I'd love to hear what they think of it. Leave your thoughts in the comments below!"